Public Symposium on East Asian Security and Japan
"How Should Japan Cope with the Challenging SecurityEnvironment in East Asia?"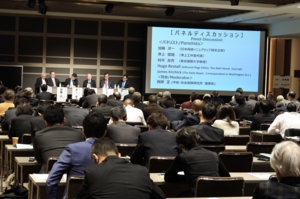 On December 1, 2016, the Research Institute for Peace and Security (RIPS) held its sixteenth autumn public seminar, entitled "How Should Japan Cope with the Challenging Security Environment in East Asia?" The seminar was held at Toranomon Hills, Tokyo, with Professor Akihiko Tanaka, a professor at the University of Tokyo and a former president of the Japan International Cooperation Agency (JICA), as the keynote speaker, as well as five distinguished panelists: two journalists from the United States and three scholars from Japan. The discussions focused on how to assess China's current foreign and security policies and how Japan should respond to them.

 1. The Keynote Speech
 Prof. Tanaka's keynote address, "Assessing China's Foreign and Security Policy," made the following points: Although China's GDP was only one-third of Japan's in the 1990's, it was three times larger by 2010. How could China's GDP grow so quickly in such a short period of time? Needless to say, China has benefited from a stable world market in which Chinese products are popular. This market is the outcome of an international order created during the years after World War II, without which China would not have prospered.
 China does not, however, agree with this international order, which is based on the 1648 Westphalia System, but is attempting to create its own Chinese international order. This attempt threatens the security of the Western democracies. In fact, China's defense budget was one-third of Japan's in the 1990's but quadrupled by 2015. Moreover, China is effectively utilizing its military power to enact its policies. For example, since 2012, when Japan nationalized the Senkaku Islands, China's foreign and security policies have become more coercive in the East China Sea. Although it is too soon to assess the next US administration's policy under President-elect Donald Trump, we can assume that China's foreign and security policies will not change.
Accordingly, in order to protect its interests, Japan must increase its defense budget, as it now is only one-fourth of China's. Equally important is improving the quality of Japan's defense assets.


 2. The Panel Discussion
 The panel discussion concentrated on three issues: (1) assessments of China's foreign and security policies and Japan's roles; (2) assessments of China's economic diplomacy and Japan's roles; and (3) the Trump administration and the Japan–United States alliance. The five panelists were Tomohide Murai, a professor at Tokyo International University; Toshiya Tsugami, president of the Tsugami Workshop; Yoichi Kato, senior research fellow at the Rebuild Japan Initiative Foundation; Hugo Restall, editorial page editor for the Wall Street Journal Asia; and James Kirchick, the Washington correspondent for the Daily Beast. Another panelist, Dominic Ziegler, was unable to attend because of health problems. Some of the highlights of their discussion include the following:

 Murai explained that in regard to Japan's security policy toward China, China often uses its military to influence its negotiations, whereas Japan does not. He therefore stressed that Japan, too, must send a strong message to China that it will protect its interests, in part by increasing its defense budget to 2 percent of its GDP, from the current 1 percent. In response, Kato commented that although Japan cannot trust China, it should nonetheless continue to try to build a working relationship with China so as to avoid any serious military repercussions.
 Tsugami pointed out that the media reports predicting China's continued sound economic performance seem unrealistic and that his personal assessment of the Chinese economy is not optimistic. China will not play a leading role in the Regional Comprehensive Economic Partnership (RCEP), despite what is often reported in the media, because Beijing is not interested and Southeast Asia already has a free-trade agreement. According to Restall, growing resentments against China and nationalism can be found in a growing number of countries. He is concerned that such resentment of China would grow rapidly as it continues to increase its economic power, especially its benefits for its own country.
 For his part, Kirchick expressed grave doubts about President-elect Trump's qualifications as president and is very pessimistic about his foreign policy. In particular, Trump has insisted that the United States withdraw from the Trans-Pacific Partnership (TPP) and the North American Free Trade Agreement (NAFTA), but he has not been able to explain what specific problems they were causing, and in what way. Kirchick added that Mr. Trump also shows little understanding of the value of the United States –Japan alliance. Indeed, security in East Asia will depend on whether Japan can persuade Mr. Trump of the importance of the alliance to the region.


Questions
 Among the questions asked of the panelists was what China's economic options would be over the next decade or two. Tsugami explained that because China's population is not expected to rise much after 2020, its economy would continue to decline. This, he believes, will lead to serious social welfare and economic problems, similar to those that Japan is currently facing. Restall maintained that although China would avoid direct military confrontations with the United States and Japan, the current situation in North Korea under Kim Jong-un is unpredictable and may well lead to China's taking military action.
In answer to another question, about Mr. Trump's on-going cabinet staff selection process, Kirchick admitted that he is generally worried about Mr. Trump's ability to select qualified staff and qualified advisers.


3. The Reception
 The seminar was followed by a reception, attended by approximately fifty participants. During his remarks at the reception, Restall thanked RIPS for organizing a tour, before the seminar, of the facilities of Japan's Self-Defense Forces and also Ishigaki Island, Okinawa.