Masashi Nishihara, President: Profile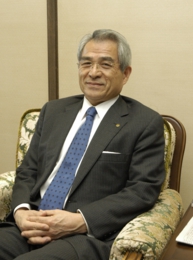 Dr. Masashi Nishihara has been President of the Research Institute for Peace and Security since 2006. Until March 2006 he served as President of the National Defense Academy, Yokosuka, for six years. In 1977-99 he was Professor of International Relations at the Academy. In 1993-95 Nishihara was Director of the First Department of the National Institute for Defense Studies. He received M.A. and Ph.D. in political science from the University of Michigan. He was a Visiting Fellow at the Australian National University, Canberra, in 1979 and at the Rockefeller Foundation, New York, in 1981-82.

 He specializes in international and Asian security. He is the author of many works on Japanese foreign and security policy issues, including Nichibei Doomei saikoo (The Japan-U.S. Alliance reconsidered) (co-editor, 2010), and Wakaru Heiwa Anzenhosho hosei (The Peace & Security Legislation comprehensible) (Asagumo, 2015). In the spring of 2015 he served on Prime Minister Shinzo Abe's committee advising on his statement commemorating on the 70th anniversary of the end of World War II.

RIPS Board of Directors (as of April 1, 2017)
Chairman
Vice Chairman
| | |
| --- | --- |
| | Prof. Emeritus, Univ. of Tokyo |
President
| | |
| --- | --- |
| | Former President, National Defence Academy |
Executive Directors
| | |
| --- | --- |
| | Former Commander-in-Chief, First Division, Ground Self-Defense Force |
Directors
Vice Chairman, Association of Promotion of

Invention and Innovation

Director, Okazaki Institute

Vice Chairman, Japan Institute of

International Affairs

Former Chairman, Joint Staff Council, Self Defence forces

President, National Graduate Institute for

Policy Studies

President, Tokyo Office, Daikin Industries,

Ltd.)

Executive Officer, Tokyo Main Office and Director, Research and Study Office, Yomiuri Newspaper Co.
Auditors
Visiting Fellow, RIPS; Former

Commander-in-Chief, 13th Division, Ground Self-

Defense Force

Corporate Executive, Japan Steel

Works, Ltd.
Chairman 
| | |
| --- | --- |
| | Senior Advisor, IHI Corporation |
Vice Chairman
President, Defense Research Center;

Former Director for Ground Systems Development,

Technical Research and Development Institute, Japan

Defense Agency
Trustees
Former president of the Tokyo Foundation

Director, Management Planning Dept.,

Hitachi, Ltd.

Director, Space & Defense Sales Dept.,

NEC Corporation

Executive Adviser, Fujitsu, Co.; Former

Chief of Joint Staff, Self-Defense Forces

Director, Electric Waves Management

System, Toshiba Social Infrastructure System, Co.

Research Adviser, Japan Institute of

International Affairs

Director, Sales Dept., Aerospace

Company, Kawasaki Heavy Industry, Co.

Vice Director, Defense & Space Domain

Project Planning Dept., Mitsubishi Heavy Industry,

Co.

Director, Electric System Dept,

Mitsubishi Electric Corporation

Prof. Chuo Univ.; Judge, International

Tribunal for the Law of the Sea

Prof., Tokyo University of Foreign

Studies